Discover Our Food Forest and Homestay: A Sustainable Retreat for Nature Lovers
Book a Food Forest experience with Jerome today!
One morning in Niwamori
¥

9,000
Garden tour or workshop in the forest garden
In depth explanation of the food forest system
Hands-on if interested
Tasting
Lunch
One day in Nara with Jerome as your guide
¥

15,000
Day tour
All the above, morning tour with Jerome in the forest garden
+ Afternoon Tenri visit of temples
Book Jerome, for one day and one evening
¥

38,000
24h Deluxe tour
All the above, morning tour with Jerome in the forest garden
+ Afternoon Tenri visit of temples
+ Evening tour of Nara or Osaka
Looking for a relaxing getaway surrounded by nature? Look no further than our Japanese garden and forest-facing apartment. Our Airbnb listing offers a glimpse into our unique homestay experience. We are committed to ensuring your stay is unforgettable. For the best prices, call us directly.
+81 70 3928 1391 – Jerome 🇫🇷🇮🇹🇬🇧🇯🇵🇨🇳🇩🇪🇵🇹🇪🇸
+81 90 8455 4069 – Hanako 🇯🇵🇬🇧🇨🇳
Discover our garden for a few hours
Join us for a tour of our stunning garden, where we showcase our passion for permaculture and sustainable living. Please call us to inquire about our tour schedules, as they may not be up to date on our website.
For the best prices call us directly.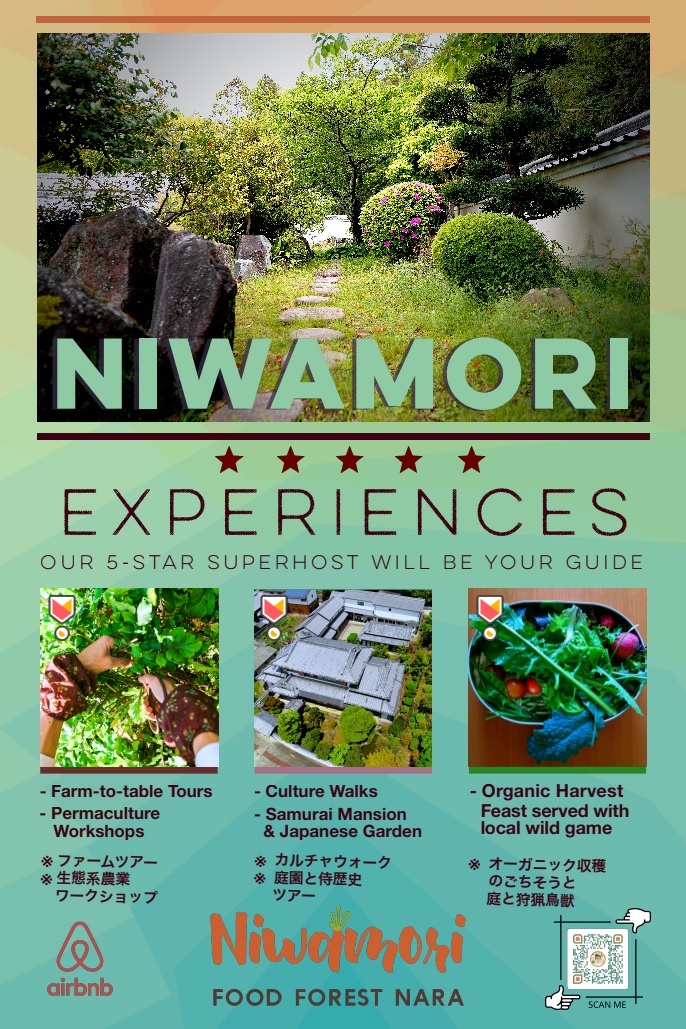 Airbnb experiences
Looking for an authentic Japanese experience? Check out our Airbnb experiences, where you can immerse yourself in the culture and learn more about our unique homestay. Choose from our Samurai Mansion & Japanese Garden Forest or our Farm to Table Permaculture Workshop.
Samurai mansion & Japanese garden forest
Farm to table permaculture workshop
Volunteering
We offer a popular volunteering program for those who want to experience life in our food forest. Our workaway.info page has all the details you need to apply. If you have any questions, please don't hesitate to call us directly
https://www.workaway.info/en/host/255375748687
If you can't commit to the minimum of two weeks required for our program, don't worry! We may have day-to-day missions available, so give us a call to inquire. Working with trees, bushes, and veggies is a unique and rewarding experience that you won't want to miss. Let's spend a beautiful day outside in the forest garden.
https://www.workaway.info/en/host/255375748687
Contact Us
Have questions about staying with us? Feel free to call us at the following numbers:
+81 70 3928 1391 – Jerome 🇫🇷🇮🇹🇬🇧🇯🇵🇨🇳🇩🇪🇵🇹🇪🇸
+81 90 8455 4069 – Hanako 🇯🇵🇬🇧🇨🇳