Book a room
You'll find here-under every link to our place and how to stay with us.
Here is our listing on Airbnb. Have a look at it! We're super dedicated hosts.
If you want to benefit from the best prices call us directly.
If you have any questions related to staying with us please give us a call at one of these numbers:
+81 70 3928 1391 – Jerome 🇫🇷🇮🇹🇬🇧🇯🇵🇨🇳🇩🇪🇵🇹🇪🇸
+81 90 8455 4069 – Hanako 🇯🇵🇬🇧🇨🇳
Discover our garden for a few hours
Same as for our hosting options, our gardening tours have proven popular.
Sometimes the schedule has not been updated so if you are interested in visiting, please call to inquire for any specific date.
For the best prices call us directly.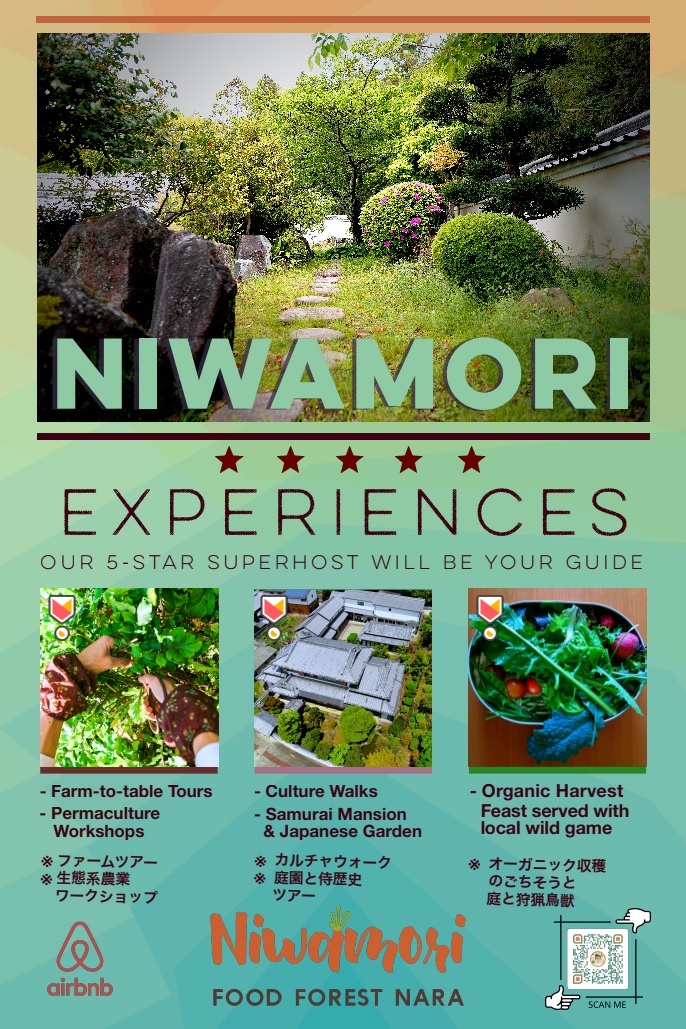 Airbnb experiences
Samurai mansion & Japanese garden forest
Farm to table permaculture workshop
Volunteering
We've run a hugely popular volunteering program and have hosted close to a hundred volunteers. For all details, visit our page on workaway.info
https://www.workaway.info/en/host/255375748687
If you can't commit for the minimum of 2 weeks we are comfortable hosting for, feel free to call us anyway as we might have day to day missions available too. Each day volunteering is unique. We work with trees, bushes, veggies etc. There is always something to learn. Let's have a nice day outside in the forest garden.
https://www.workaway.info/en/host/255375748687
If you have any questions related to staying with us please give us a call at one of these numbers:
+81 70 3928 1391 – Jerome 🇫🇷🇮🇹🇬🇧🇯🇵🇨🇳🇩🇪🇵🇹🇪🇸
+81 90 8455 4069 – Hanako 🇯🇵🇬🇧🇨🇳